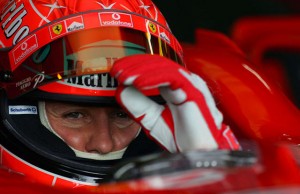 Since Michael Schumacher's injury in December of 2013, the seven-time world champion has been in a coma and is now under constant care.
A recent report from The Daily Mail revealed that Michael Schumacher's wife, Corinna, has sold their £25million jet and holiday home, and it was revealed that she accepts that her husband might not ever enjoy them again due to his brain injury.
The Telegraph reports that since the year after coming out of his coma, Michael Schumacher has been showing "precious signs of progress". Schumacher's manager, confirmed that he left the hospital in Grenoble, France, and moved to a rehabilitation clinic in Lausanne, Switzerland. It was in November of last year when Kehm stated that "progress has been made in the past weeks and months" but there was still "a long and difficult road ahead".
Last November, the official Michael Schumacher website was relaunched in order to mark the 20th anniversary of the driver's first world championship. The site provides visitors a place to send messages to his wife and kids called "How to Wish Michael Well".
If you add the hashtag #keepfightingmichael to your tweet, you will find it on http://www.michael-schumacher.de/en/fans/keepfightingmichael/.
It might take a while until it appears. All rules of www.twitter.com do apply.
Remember tag : #keepfightingmichael